This trip will lead me on a 14-day tour of eastern Alabama, western Georgia and a slice of Tennessee.
On this last day of my trip to Alabama, Tennessee and Georgia, I visit Kennesaw Mountain National Battlefield Park, several covered bridges and the Andersonville National Cemetery.
Kennesaw Mountain National Battlefield Park
This park contains Kennesaw Mountain and preserves a Civil War battleground of the Atlanta Campaign. Its name is derived from the Cherokee word meaning cemetery or burial ground.
Located close to Atlanta, it draws a crowd on most days and as such I did not expect to be the sole hiker on this 2 mile main hike to the top of its mountain.
This in/out trail starts with an exhausting incline, that continues all the way to the top. Fortunately, most of this hike is under a high canopy of trees, that provides shade during my visit.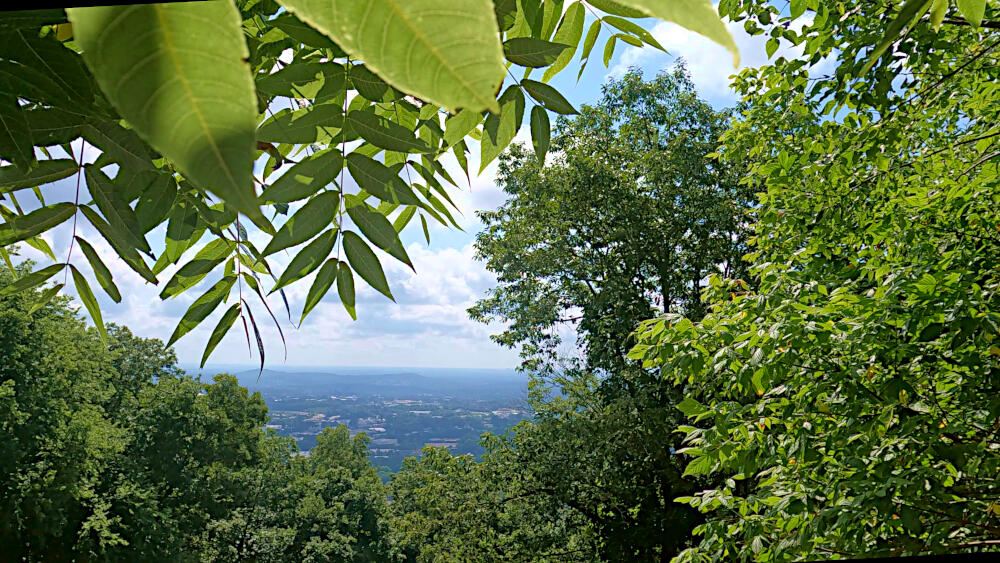 You will see a few war memorabilia along the way, as is expected in this war memorial park. Once at the top I was able to enjoy a stunning views from the surrounding area.
Concord Covered Bridge
Concord Covered Bridge is a historical site, that includes includes a gristmill (1840s), Miller's house (c.1850) and the covered bridge.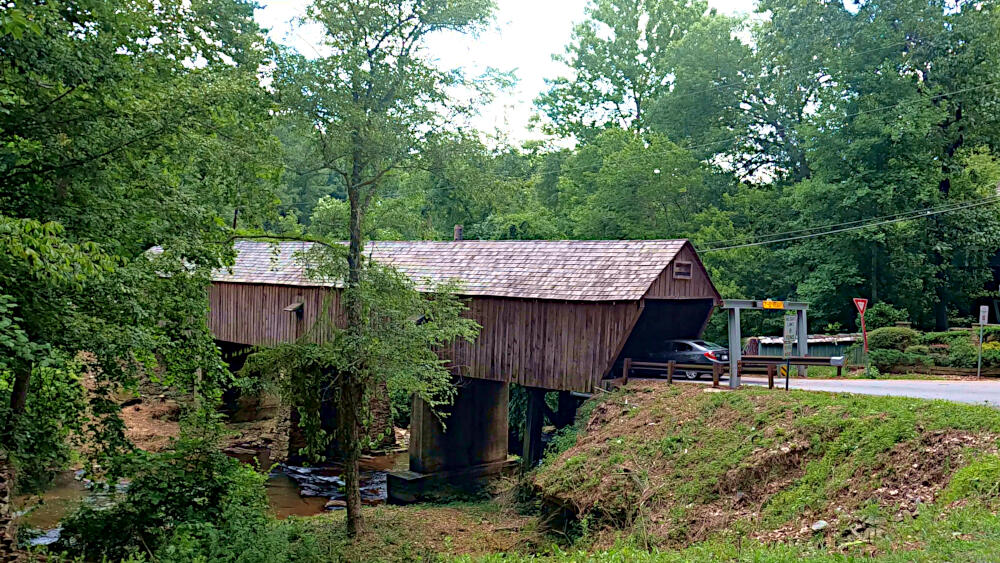 The one-lane Concord Covered Bridge (1872), which spans Nickajack Creek, has been rebuilt multiple times during its existence to accommodate the increasingly modern traffic. The bridge is 133ft | 40.5m long, 16ft | 5m wide, and 13ft | 4m high, with a low 7ft | 2.14m entry.
Auchumpkee Creek Covered Bridge
This bridge was built in 1898 and is a Town lattice truss type bridge. Locally know as the Hootenville Covered Bridge. It is completely covered and is 121ft | 37m long, resting on two native stone piers held together with cement.
Restored twice, in 1994 the bridge was washed out by local flooding, but rebuilt in 1997 from the ground up.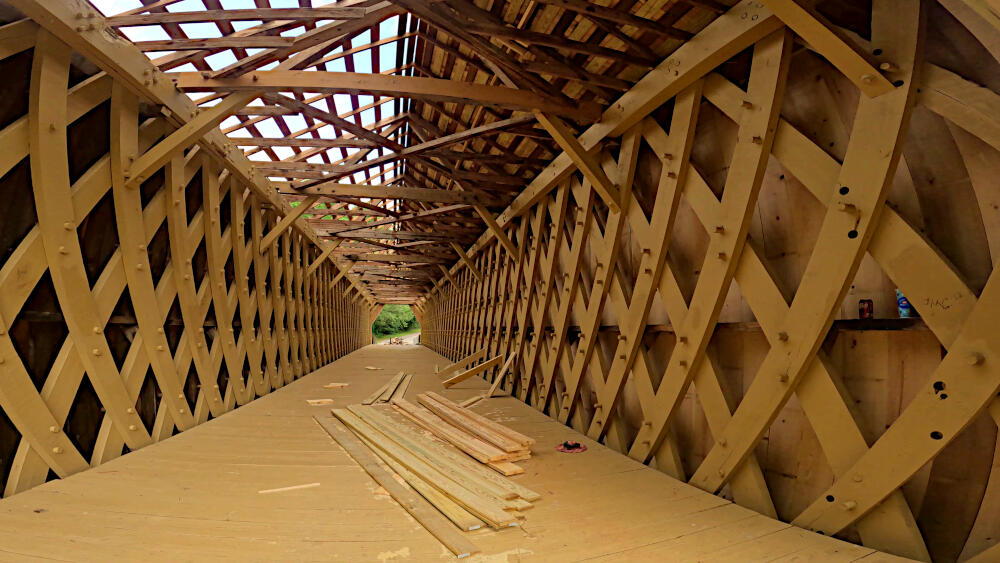 It's 25 years later now and I found the bridge in the middle of a new renovation.
Red Oak Creek Covered Bridge
Like many covered bridges in Georgia, this bridge is a covered Town lattice truss type and probably built by Horace King, a slave, in about 1840.
Its covered portion is 116ft | 35m long while its total span is 412ft | 126m long, which is the longest total span of any covered bridge in Georgia. It is held together by ~2,500 wooden pegs.
Andersonville Cemetery / NHP
The Andersonville National Historic Site is the site of the American Civil War prisoner of war camp Camp Sumter, a Confederate prisoner-of-war-camp during the last 12 months of the Civil War. The Andersonville National Cemetery and the National Prisoner of War Museum are also part of this National Historic Site.
The camp was overcrowded with four times as many prisoners as it was designed to hold. Without enough water, food, or sanitation, nearly 13,000 out of 45,000 Union prisoners died from were scurvy, diarrhea, and dysentery.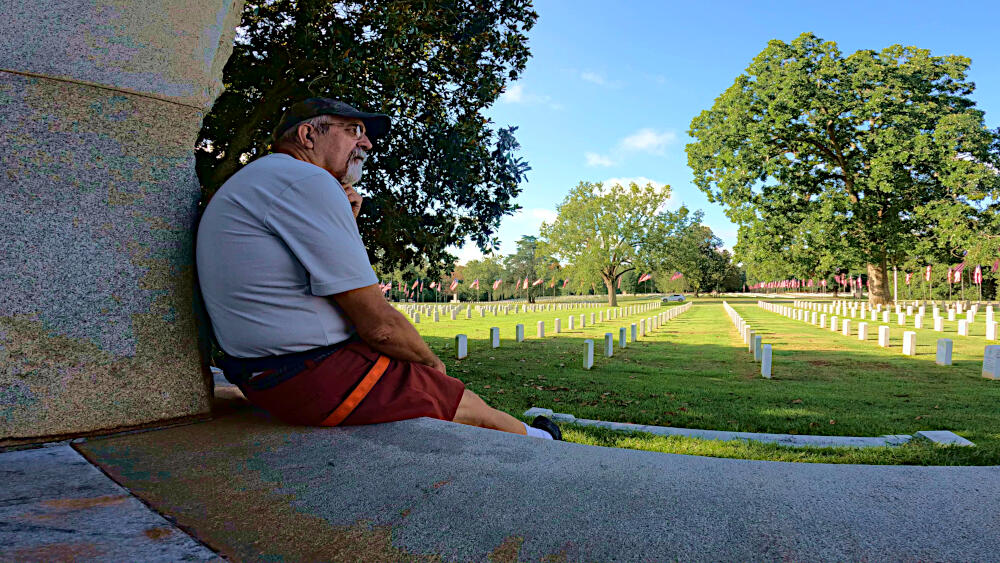 After the war, its commander was tried and found guilty of war crimes and executed.
When I entered the premises, the architecture of the museum building overwhelmed me with how well it reflected the character of prisoner of war camp. The National Cemetery, with its long rows of head stones, always brings me back to reality and the realization how fragile life is.
One other facet of this cemetery is that part of the grounds, only marked with "section G" stone, is a segregated area of the cemetery.
End of this trip
This is the last in this series of 12 videos, where I travel through Alabama, Tennessee and Georgia in my "almost finished" Ford Transit conversion van. I use these experiences to prepare myself for when I decide to move into the van permanently with my dog Joey.
It affords me to make little changes to the van and its content, before making it my home and starting a major adventure, by traveling throughout the US with a low budget, high comfort and a long list of things to see.
---
Locations
Kennesaw Mountain National Battlefield Park ➜ 33.9831,-84.5784
Concord Covered Bridge ➜ 33.8491,-84.5590
Red Oak Creek Covered Bridge ➜ 33.0385,-84.5523
Auchumpkee Creek Covered Bridge ➜ 32.7556,-84.2297
Andersonville NHP ➜ 32.2034,-84.1314
Trail Download – Gpx