Northern Alabama
This trip will lead me on a 14-day tour of eastern Alabama, western Georgia and a slice of Tennessee.
This day is filled with hikes to three different waterfalls of the Bankhead National Forest in Alabama and a quick stop at one of the oldest churches of the state.
It's the heart of summer and the Alabama sun shines as bright and as harsh as anywhere else and limits the length of trails, that I'm prepared to do. With temperatures close to or above 100 degrees I have to be careful for my own health, as well as Joey's. Dogs have it especially difficult in this heat, because they cannot sweat.
Making it easier for both of us, is that hiking in the Bankhead NF is usually under a heavy forest canopy, thus reducing the exposure to the sun throughout the day.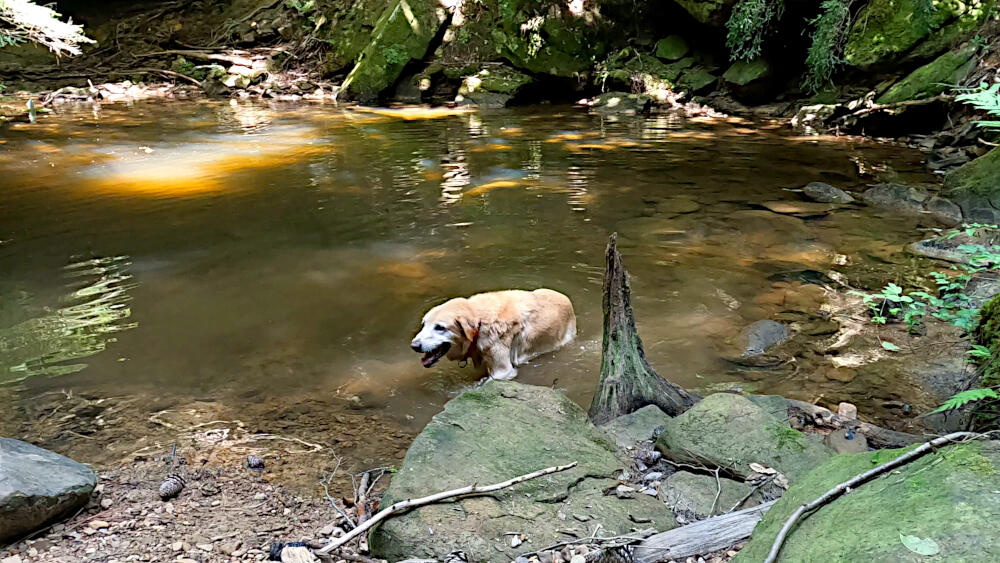 While at this time of the year, the waterfalls are mostly dry falls, an additional relief for Joey is, the wide and shallow pools, which offer Joey an easy way to cool down, giving me the opportunity to explore the area.
Sougahoagdee Falls Trail
With last night's boondocking spot only about a 0.25 mile away from the trailhead, I arrive at this 1.75 mile trail (OW) when the outside temperatures are still manageable.
The parking area can accommodate several passenger cars or vans; larger vehicles such as a small Class C, will find it more difficult to park at access points throughout the Bankhead NF. This makes the case for Van Conversions as a preferred means of travel.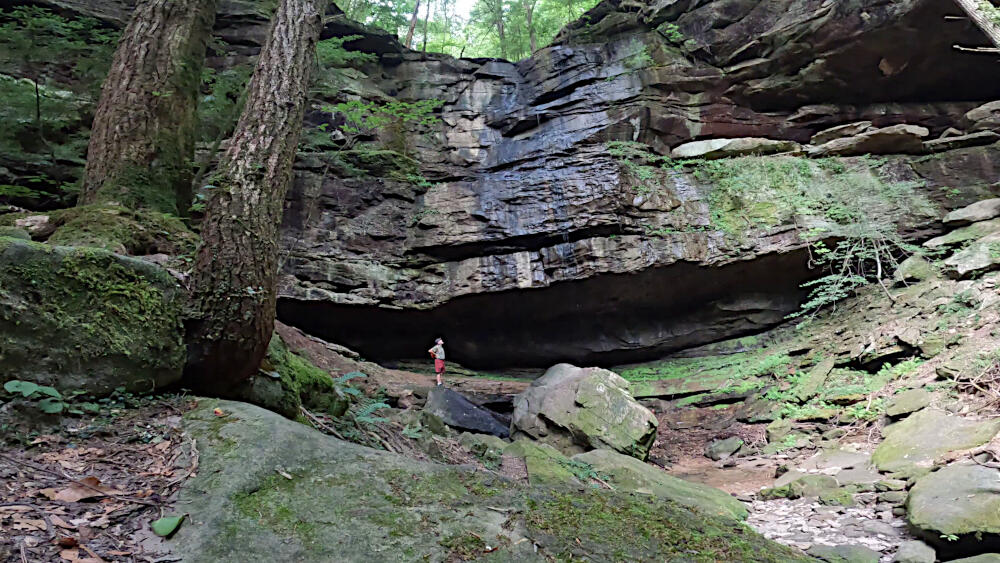 The trail is a fairly wide path, sometimes blocked by fallen trees, that follows the creek up to the falls. This time of year, only a few drops of water manage to reach the bottom of the falls, but the dry waterfall is still impressive to see. I will put a future spring visit at the top of my travel list.
Holmes Chapel Falls Trail
This 0.25 mile trail (OW) is the lesser of the three waterfalls, that I visit today. The rocky creek bed above the falls was completely dry. That will be an entirely different story, earlier in the year. Overall a nice short and easy trail.
Pine Torch Church
One of the state's oldest churches that is still standing and is probably still used on occasion. You never know with these buildings, how much is still original, but the roof beams and the outside logs caught my eye.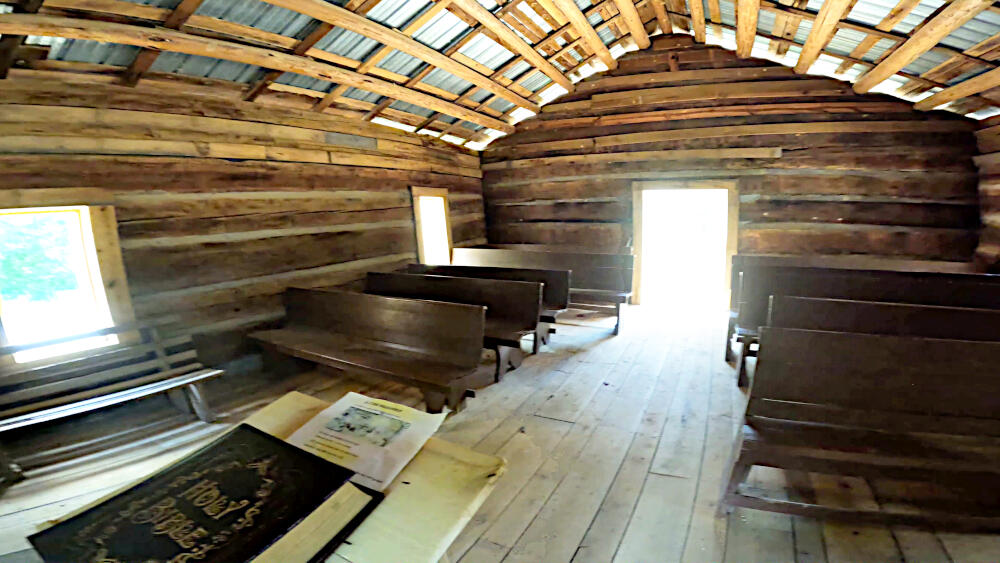 The logs showed their age, and where they interlock, you can see the craftsmanship with which these cuts have been made. For someone like me, who enjoys woodworking as a hobby, it's a wonderful sight.
Shangri-La Falls Trail
This last waterfall trail for today is approx. 0.75 mile (OW) long. This is an easy hike under a partial canopy, until you reach the final descent to the falls.
Sometimes a bit scary, the trail has several steep passages, that only should be taken by a fit person. Remember, going done is always easier than up.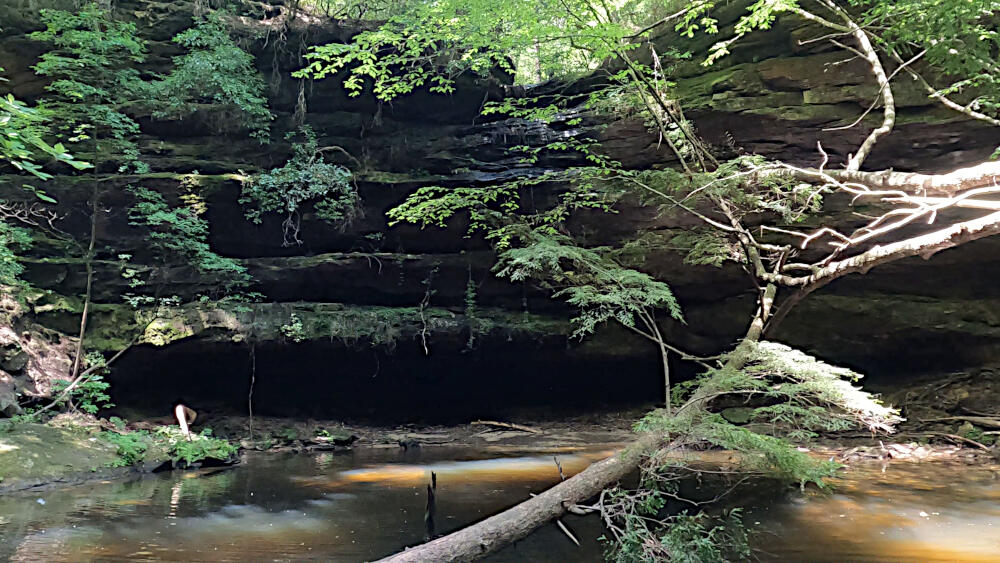 The dry waterfall must be imposing when there is an excess of water flowing over it in Spring. There are also possibilities to further explore the small ravine both up and downstream.
Campsite
Boondocking spots are not abundant in the Bankhead NF, but I found a pretty good one, called Wolfpen Hunt Camp. No facilities and not always perfectly level campsites, it offered me a good night's sleep and a good base to start the Wolf Pen hike from. But more about that in the next video.
Locations
Sougahoagdee Falls ➜ 34.2516,-87.2463
Holmes Chapel Falls ➜ 34.2768,-87.2570
Pine Torch Church ➜ 34.3215,-87.2990
Shangri-La Falls ➜ 34.2832,-87.3005
Wolfpen Campsite ➜ 34.2825, -87.4358
Trail Downloads – Gpx