This trip in the fall of 2022 will lead me on a 14-day tour of northern Georgia, southern Tennessee and a slice of South Carolina.
An ordinary day with two impressive hikes, an Indian mound and a covered bridge. Highlight of the day was when I got smitten with a herd of cows 🙂
Raven Cliffs Boondocking
I woke up from another boondocking stay at the Raven Cliffs trailhead, which is this day's first trail. This location was virtually filled up with weekenders. Good night's sleep and beautiful place to stay.
Raven Cliffs Trail
A 6 mile roundtrip hike along a creek with many smaller falls to he main waterfall, which cascades through a 40-foot-tall, towering cliff, slicing the enormous rock outcrop in half.
The hike follows a beautiful, rushing trout stream in a shady, moss-filled forest.
Joey seizes every opportunity to sit down in any pool of water to cool and this hike must be like heaven to him.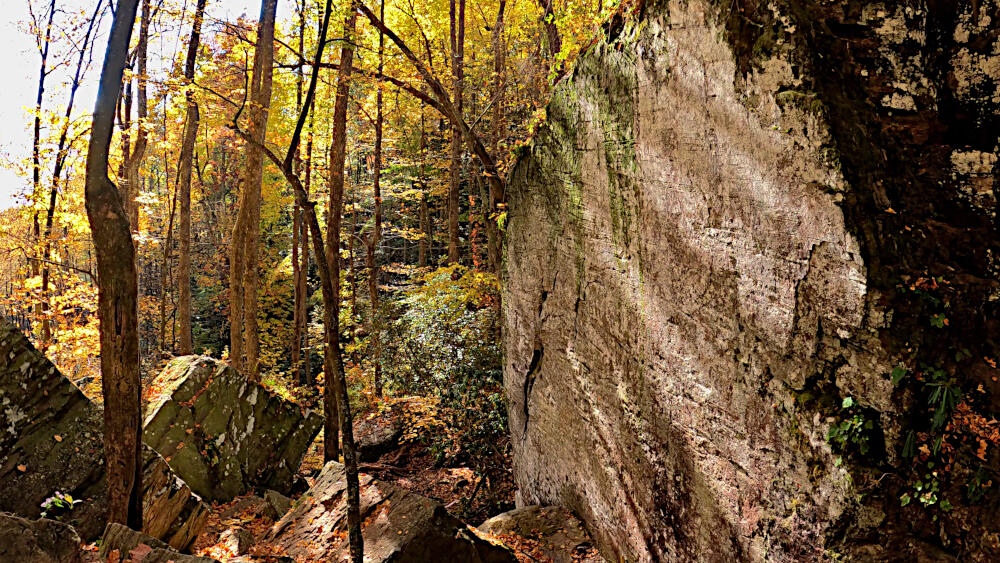 The trail is easy with only at the end a steeper limb to the cliffs. Fall is the right time to be here on a weekday.
Dukes Creek Falls Trail
This falls trail is just a mile further down the road much shorter, yet tough on the way back out of the canyon.
The falls area is a confluence of two streams with a viewing platform. Two miles in & out.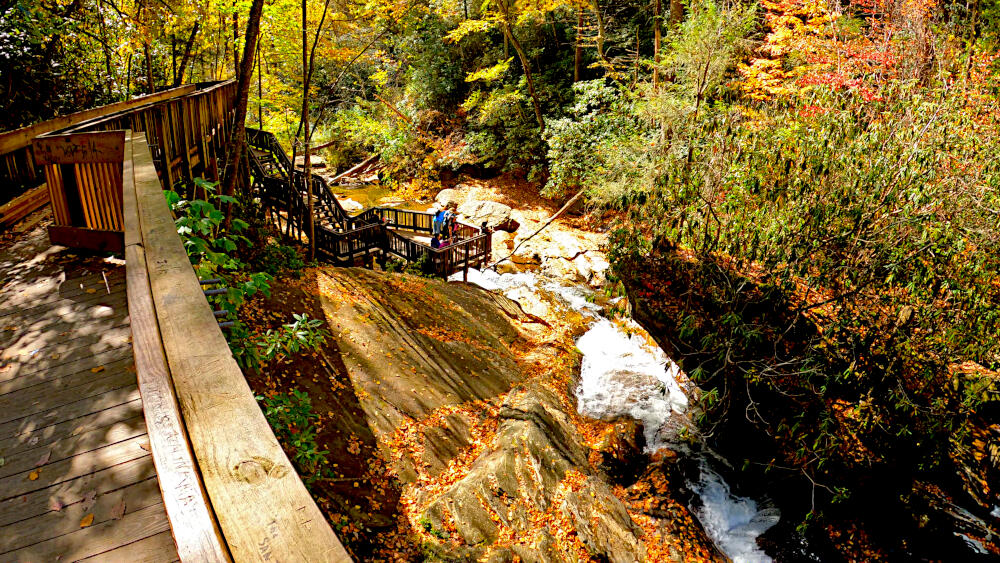 Nacoochee Indian Mound
Close to the Tennessee border, I want to visit this 'former' Indian mound. Without access and only a view from the road, I leave the van to take a few pictures and before I know, a herd of cows starts running towards me from the other side of the meadow. There was an other couple there but the cows weren't interested in them. These Dutch Belted milk cows apparently were attracted to me for our common ancestry. It made my day!
First occupied as early as 100-500 AD by Woodland culture people. From 1350-1600 AD the peoples of the South Appalachian Mississippian culture built a characteristic platform mound at this site, and evidence of related villages were found both east and west of the mound.
An excavation revealed a total of 75 human burials. This lovely burial mound is actually a replica that was installed after archaeologists excavated the original. The gazebo was installed on top of the mound in 1890 by the land owner.
Stovall Mill Covered Bridge
It is the smallest covered bridge in Georgia. Built in 1895, one-lane wide and only 33 ft long. It spans Chickamauga Creek and has a King-post design.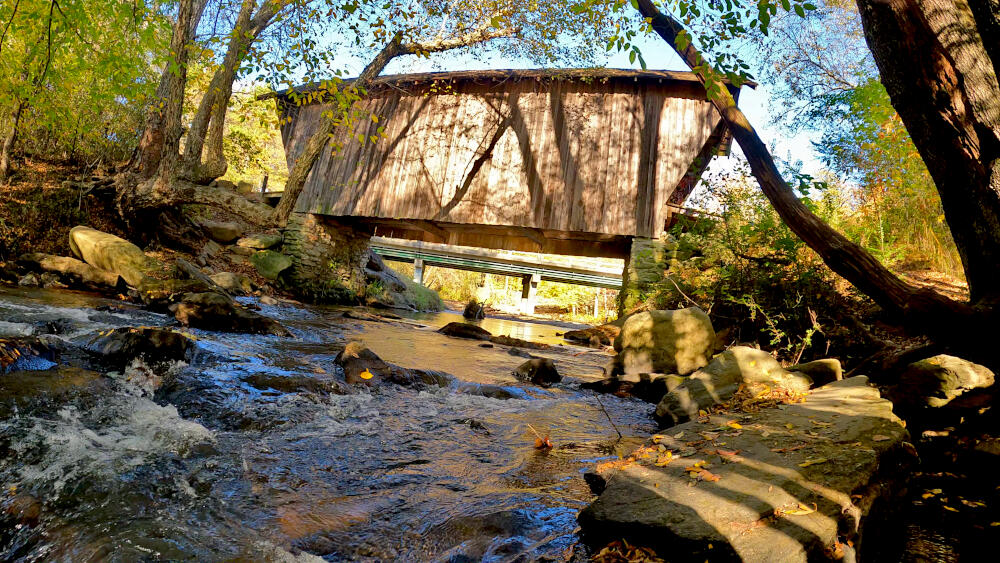 Unicoi Gap Boondocking
At the end of the day, I find myself at the Unicoi Gap trailhead, the location for tomorrow's first hike. It is always a delight to arrive with daylight, had a short walk with Joey, made a simple dinner and spent the evening transferring video files and preparing my camera's for tomorrow. By 9PM I was sound asleep.
---
Locations
Last Nights Boondocking ➜ 34.7094, -83.7889
Raven Cliffs Trail ➜ 34.7094, -83.7889
Dukes Creek Falls Trail ➜ 34.7019, -83.7893
Nacoochee Indian Mound ➜ 34.6834, -83.7089
Stovall Mill Covered Bridge ➜ 34.7117, -83.6578
Boondocking Campsite ➜ 34.8017, -83.7428
Trail Download – GPX